Dear Friends of Short Run, 
We are finding it hard to make a closing statement about 2020: It was hard, confusing, shocking/not shocking, boring, scary, and it went on and on. The best we could do was stay present and hold our community close. This year-end report shares what we did to make it through. Your donations and your support helped keep the lights on throughout it all.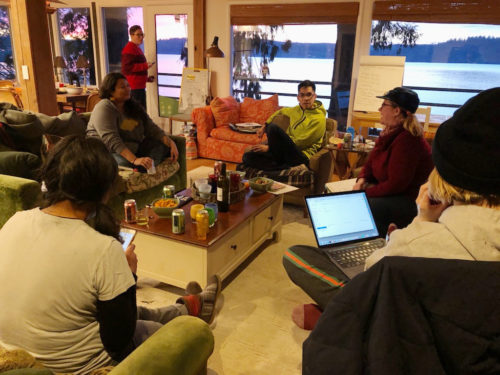 In February, the Short Run Board of Directors retreated to Vashon Island, where we brainstormed ideas and made plans for the year ahead—fundraisers, summer school classes, gallery exhibitions, print projects, and of course the festival. We were excited to celebrate our 10th anniversary as a festival and an organization! We were sure that seeing a pod of orcas briefly breach just outside the windows was a good omen!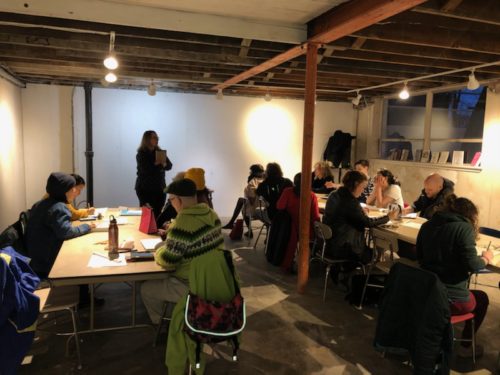 We completed our 6-week comix class, taught by ED Kelly Froh & Board Chair Mita Mahato at the new art space Museum of Museums (MoM), just 1 week before lock-down. We had visions for a whole curriculum of comics classes and we can't wait to return MoM when it's safe to do so again.
Here is our full-color and full-of-hope 2019 annual report. Luckily, we worked on the report before and during the beginning of quarantine and used it as an opportunity to pay 2 artists and 1 designer for their contributions. We prioritized getting money in the pockets of artists, especially the ones that were losing their day jobs and worried about unemployment benefits.
In April and May we developed a number of print projects—including a t-shirt designed by Advisory Board Member Lauren Armstrong. As part of our support for the Black Lives Matter movement, we donated all proceeds from the shirt to Wa Na Wari, a local community organization that celebrates Black arts and culture.
We received 68 submissions to a call we put out via social media asking for autobiographical comics in response to the early days of quarantine and the growing fears associated with COVID-19. We posted these comics, created by seasoned artists and first-timers alike, as they came in on our tumblr page. Later, we published them in a print anthology, Corona Comics, selling and distributing over 120 copies.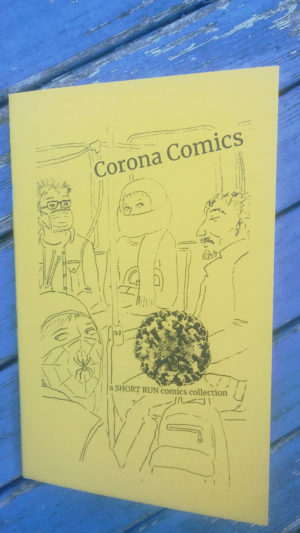 This collection caught the eye of The Seattle Times, who included us in an article about how comic artists were documenting their lives during quarantine. Kelly was interviewed and comics by Marie Bouassi, Amy Camber, and Robyn Jordan were featured. Finally, The Seattle Times ran a full page of alternative comics!
We did zoom sessions with the residents chosen for our Trailer Blaze Comics Residency that was to take place in April. These sessions were a great way to be introduced to everyone, to be inspired by their work, and to offer a small consolation when everything was getting cancelled.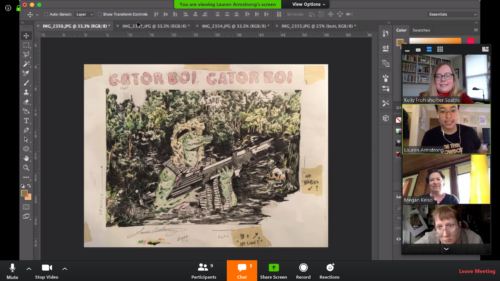 In September, we received a $10,000 grant from the Literary Arts Emergency Fund. This award was truly incredible; a no-strings-attached, 'just stay in business' grant. Along with your donations during Give Big, Giving Tuesday, and our logo mask fundraiser, this award made us feel truly valued and supported by our community.
We conducted two virtual workshops with the King County Public Library: zine-making for youth taught by Advisory Board Member Jessica Hoffman.
In October, Larry Reid (curator & manager of Fantagraphics Bookstore & Gallery) approached us about doing an art show at the store. After some discussion, he agreed to let us do two in a row! Precautions were in place to assure that people visiting the show could feel safe while viewing the art and buying books. 
Hot Machines was a Risograph art show featuring prints and books printed at Paper Press Punch (Jessica Hoffman & Justin Quinlan, Georgetown) and Cold Cube Press (Aidan Fitzgerald & Michael Heck, Pioneer Square), two homegrown small businesses hanging on through it all. 
Cold Cube Press artists: Lamb, Karissa Sukumoto, Hue Nguyen, Jacob Rochester, Michael Olivo, Kayla Wroblewski & Kit Landwehr, Cynthia Alfonso, Albie, Erin Halligan
Paper Press Punch artists: Lauren Norby, Esther Lui & Priscella Boatwright, Elaine Lin, Lauren Armstrong, Raven Two Feathers & Jonny Cechony, Katie Kurtz, Iris Jay & Nero O'Reilly & Kory Bing, Chris Furniss, Lauren Maxwell, Christopher Michon, Jeremiah Moon, Cable Griffith, Jordan Kay, Jarad Soloman, Dennis Madamba, Rosie Lockie
Our second show, BLAZERS, displayed the work of 12 artists selected to attend our 6th annual Trailer Blaze Comics Residency, scheduled for last April but postponed indefinitely due to COVID-19. These women and non-binary artists represent Short Run's commitment to alternative comic storytelling born of experimentation rather than complicity with rules and tradition.
Artists included: Veronika Muchitsch (UK), Melanie Stevens (OR), Sophia Zarders (CA), Krusty Wheatfield (CA), Janna Morton (MD), Lydia Fu (IL), Katie Fricas (NY), Rachel Scheer (Seattle), E.T. Russian (Seattle), Lee Bess (Seattle), Lauren Armstrong (Seattle), Megan Kelso (Seattle).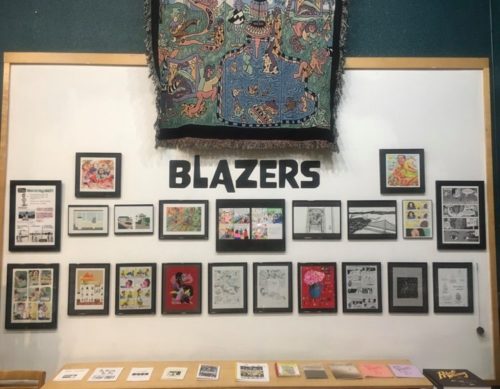 In November, thanks to grants from 4Culture and The Seattle Office of Arts & Culture, we installed enlarged comic posters of Robyn Jordan's COVID-19 comics (an ongoing series she made for Mutha Magazine) in the windows and on kiosks in 6 locations around Seattle Center campus. This socially-distanced comic art show has been extended through the end of February 2021 (it's estimated that about 5,000 people will have viewed it over the months of its run) and is free to the public.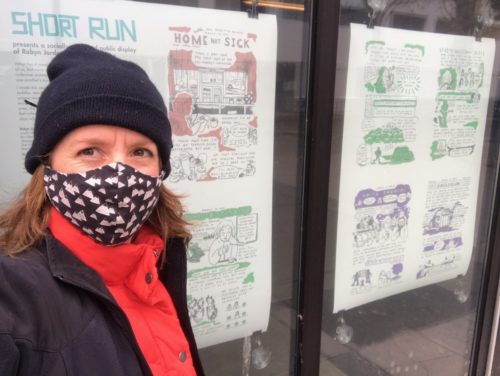 We have spent the last half of the year organizing photos, art, and text for a 10th-anniversary "festival in a book," which we hope to publish in early 2021. This book project, along with other print & video projects, allowed us to contract 50+ artists and pay over $10,000 for illustration, animation, and design work.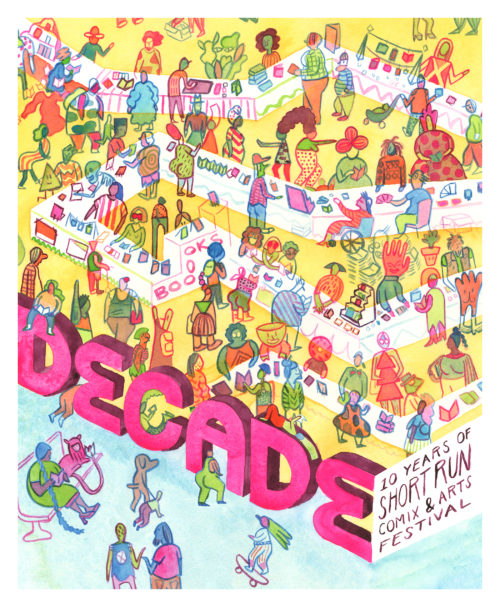 We were able to keep our one employee (though their hours and pay were reduced). It meant a lot to us to not go completely dark because of our festival cancellation. We wanted to stay present in the community, even if that meant doing so via social media engagement and smaller or outdoor art shows. 
We donated funds to support causes that are close to us: supporting Black art & culture in Seattle; purchasing school supplies for youth refugees; and helping our artist friends in Beirut rebuild their livelihoods after the massive warehouse explosion in August.
We look forward to a safe, vaccinated population that feels confident to gather in public again. We are weather-worn and need to be together; that is undeniable. Until then, we will continue to focus on print & publishing projects, archiving, connecting artists with resources and opportunities, curating careful art shows & experiences, mutual aid, and responding to the needs of our community as our country figures out its shit. We hope to see you soon, be safe, and take care!

The Short Run Board of Directors – how we got through 2020 
Mita  Reading Josef Albers' Interaction of Color while camping on the Lower Snoqualmie; working in the studio and listening to podcasts or sounds coming from Robert's computer; marco polo chats; family time with old lady cat; perfecting vegan scones and naan; acknowledging arbitrary distinctions between life and death <3
Meredith   The bright spot in my day (and night) job in the Covid response for the health department was working with Kelly on comics to help older adults through the isolation of staying at home. I've begun to find the energy to make some comics about my experience on the Covid frontlines. This year, I'll be excited to publish Graphic Public Health, an anthology of comics featuring some familiar Short Run artists.
Otts     I installed a large, interactive community art project in my front yard from mid-April to mid-May. Through voting (counting fallen camellia flowers put in different piles), surveys (choosing numbers to reflect intensity of feelings), and calling an anonymous number to leave longer answers to posted questions, stories were collected from Beacon Hill neighbors and passersby and became part of a record of that moment, in my neighborhood, along my street. Find animations and video recordings from the project here. 
Lyli     Adopting a tiny demon puppy named Fern, working on a podcast with friends about trees, took up needle felting, non stop text threads with my childhood friends, living room yoga and playing board games with my partner. 
Jessica     Group threads, elder care, conceptualizing "spaces" with my romantic partner, finding things to be ambitious about outside of money/power/influence, riots, fireside chats, pivots, poetry. 
Lee     My efforts turned toward Covid relief this year, working as a contact tracer and delivering food to school kids in Seattle. I adopted a very bouncy puppy and started a little garden at my new house. 
Kelly    Gardening and laying in the grass was what got me through the first half of quarantine. Then, deep cleaning, organizing, cooking & baking, consuming media, and making zines kept me level.