Another wonderful week at The Sou'Wester Lodge for our 7th annual Trailer Blaze Comics Residency, with 13 artists from all over – Seattle, Philadelphia, Hiroshima, Norfolk, Portland, Omaha, Haida Gwaii, Osoyoos!
2023 residents: Asia Bey, Nicola Streeten, Lark Pien, Natalie Dupille, Caitlin Cass, Kara Sieveright, Veronica Graham; invited residents Rumi Hara, Endrené Shepherd, Elizabeth Haidle; and alumni mentors Lauren Armstrong, Robyn Jordan, and Kelly Froh.
One of Kara's incredible drawings.
Group looking at Veronica's work.
Beach walk (very cold on first night!)
Group meal on the top floor of Lodge.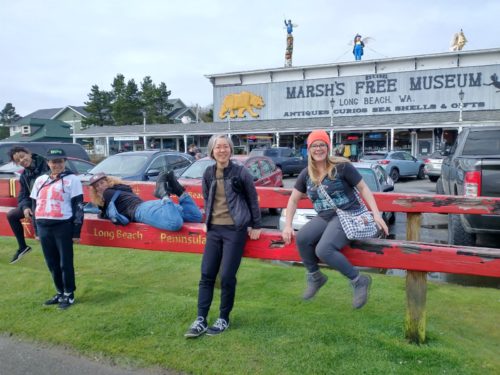 Little side trip to Marsh's Free Museum (feat. World's Largest Chop Sticks)
Pages from Caitlin and Lauren.
Walking from the geodesic dome to our cars to depart on the last day.
Thanks to all the residents who came from afar to attend this residency. They worked hard, but also came to every gathering with open hearts, support & interest in others, and lots of joy & laughter. It was a great week: sunny almost every day, rain only interupting our grill out temporarily and then setting in on our last day (which was well timed, since we were all hunkered down). There were side trips to Cape Disappointment, the oyster store, Antique Mall, and the tourist part of Seaview (Marsh's, The Passion Meter, Spurting Razor Clam, World's Largest Skillet & Chopsticks). Our dinners were delicious and filled with raucous conversation (Grill night, Chili night, Taco night, Sushi night, Curry night!). Many residents enjoyed the sauna more than once. It's always hard to leave after having experienced being around other comic artists (they just GET YOU!) for a whole week, alas, we'll be connected from this point forward.
Thanks to Mary, Nikki, Thandi, and everyone at The Sou'Wester Lodge. Thanks to Meatball the cat, the eagles, the frogs, the puddles, the hammock.
See you next year!