It happened! We successfully held our 10th anniversary Short Run Comix & Arts Festival after a 2-year postponement! 200 exhibitor-artists (from all over the US, and 6 other countries) filled Fisher Pavilion, and over 4,000 people attended over 7 hours. Despite it being a very rainy weekend, Saturday was mostly sunny and clear, and at one point there was a rainbow!  Exhibitors reported record sales, which meant Seattle came out to support these artists that have been so isolated without the festival circuit. THANK YOU SEATTLE!!! 
We started off the year by offering a 6-week comics class taught by our Executive Director Kelly Froh, featuring 3 guest artists demonstrating their expertise: Megan Kelso, Mita Mahato, and Max Clotfelter. We kept the class size small as we were still being very Covid-cautious. Each student produced an autobiographical mini-comic by the end of the class. Kelly also taught one-off comics classes and zine-making lessons for The Northwest School, Girl Scouts, The Bush School, and Precision Learning Academy throughout the first few months of the year. 
We launched a new program, SHOW UP – "a series of show & tell with comic artists building IRL community". This monthly artist talk attracted anywhere from 10-20 people at our studio space in Georgetown for an intimate experience of getting to know local artists and strengthening our community. We featured Susanna Ryan, Yewon Kwon (pictured above), Mannie Murphy, C.A. Lohr, Darin Shuler, and Alex Graham as our first 6 guest speakers. They each brought books that inspired them to be artists, and talked about their artist lineage (how they came to be the artists they are). We will continue this program into 2023 and will publish a zine archiving the first year.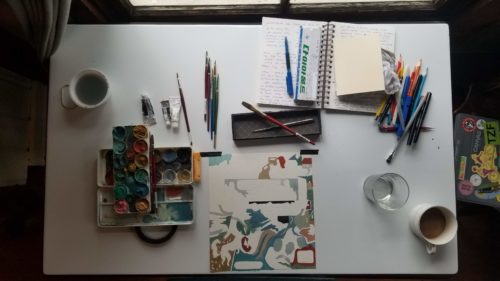 Trailer Blaze Comics Residency also finally happened after being postponed, April 17-22, again at The Sou'Wester on Long Beach Peninsula. We welcomed 13 artists; new residents Veronika Muchitsch (UK), Melanie Stevens (OR), Krusty Wheatfield (CA), Lenora Yerkes (DC), Janna Morton (MD), Rachel Scheer (Seattle); invited artists Lydia Fu (IL), Katie Fricas (NY); alumni, local mentors Mita Mahato, E.T. Russian, Lauren Armstrong, Megan Kelso, and Kelly Froh. 
In July, we had a successful mini-fundraiser at Chuck's Hop-Shop in the Central District, arranged by our Advisory Board Member Lauren Armstrong, and in late August we threw a pool party for Short Run VIP (Board, Advisory Board, Volunteers, and friends) at our beloved Travelodge at the Space Needle.
Summer School was held at our studio in Georgetown, and at Mini Mart City Park, a newly opened art space nearby. Attracting attendance was difficult due to the hot weather and people still not ready to gather because of Covid. Though the classes were smaller than we hoped, we still had a great time with instructors Yuka Petz, Marc Palm, Paper Press Punch, Megan Kelso, and Lauren Armstrong teaching a range of topics, from inking with nibs and ballpoint pen to learning to draw in perspective. 
Then, before we knew it, it was festival weekend, which for us actually began on Wednesday night (11/2) at the Renton Highlands Library, where our special guest from Argentina, Natalia Novia, led a zine-making workshop in Spanish. Thursday night (11/3) she read her comics before a live audience along with other guests Anna Haifisch, and Claudia Chinyere Akole at The Grocery Studios on Beacon Hill. During the day on Friday (11/4), guests Lale Westvind and Gareth Brookes taught comics workshops, and that night we had a pre-fest reception and art show at Fantagraphics Bookstore & Gallery, with a brief interview with guest Shary Flenniken by Larry Reid. 
Along with our 200 artist-exhibitors, our festival featured Short Run micro-grant recipients Julia Wald, who won the $500 DASH grant for her comic, "Uncle Scam's Army Navy Surplus", the first part of which she had printed in time to premiere at the fest. The Katie Kelso Travel Grant recipients, each receiving $400, were Dustin Garcia, golden collier, Anna Tararova, and Saoirse Alessandro. 
In November, we were awarded a $20,000 grant from the WA State Commerce Department! Because of these funds and other grants from the NEA, artsWA, 4Culture, and community support, we intend to plan another great year of programming including our 11th annual festival! Thank you to everyone who attended our events, invited a friend, shared a post, gave us a dollar, bought books, danced on a rooftop – if you keep showing up for us, we'll show up for you!
Happy New Year! DRAW! READ! MAKE BOOKS!