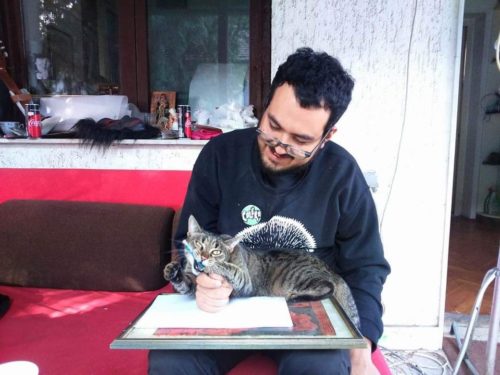 Short Run was excited to invite Abraham Díaz to Seattle as a special guest for this year's festival. Unfortunately, Abraham's visa application was denied by U.S Customs and Border Patrol. Despite this, Short Run has been committed to ensuring that the Short Run community connects with Abraham's work in his absence. Short Run board member Lylianna Allala video conferenced with Abraham and they talked about horror films, comics, punk music and the power that exists in between the margins. What you are about to read is in Spanglish and stays true to the spirit of how their conversation unfolded.  
LA: Music seems to play a role in your comics and drawing. I read in an interview that you listen to music while you draw. How has music influenced you and your drawing? 
Music was one of the things that helped me show my work to more people. When I dropped out of school, I went through a two-year depression. I wasn't happy with design school and when I left, I didn't know what to do. That was when I started drawing. I knew a little about R. Crumb but that's about it. I didn't know about alternative comics at that time. Later I was introduced to the alternative comics scene through Inés Estrada [Short Run guest '16]. I connected with her on the internet but then, we found out we actually went to high school together but had never met.  In my generation, comics were about superheroes, Marvel and DC but I connected more with animated cartoons. I was a big fan of Hanna-Barbera and Looney Toons. 
Connection to music is important for me. I started going to punk shows in the city and meeting people in the scene. My friend Yecatl and I were at a house party, up late talking and I showed him some stickers I made of my drawings. He showed me his notebook and in between his anthropology notes were his drawings. Soon after that, his band started to get more recognition in the hardcore punk circuit. We couldn't afford to pay the offset printing for the record sleeves so we learned to screen print and make our own sleeves. 
More people into gross, brutal punk aesthetics got in touch with me to commission drawings from the punk scene internationally. I was being hired to draw record covers, advertisements, t-shirt designs. For 2-3 years of my life my income came entirely from doing commissions for punk bands. 
LA: Do you like mix-tapes? 
Yeah! I used to make them a lot. I have a podcast where I string together songs and audio from videos that have gone viral in Mexico.
LA: Nausea (mini kuš! #63) was my first introduction to your comics. It's gritty and dark and the use of color adds another layer to the story telling. Can you talk a little about your process for choosing colors in your comics? 
The color palette depends on what I am working on. I mostly work in black and white and I like using color but it's a different process for each. When I am working on a black and white image, I use a lot of textures like lines and dots. When I work in color, I mostly work with lines and empty space. I build the texture with the color. On color palettes, I try a lot of mixes but when I find color palettes that I like on the internet, I steal them and use them in my work. 
With Nausea I wanted to create a story of different realities that start in the same place and move to different places. There are 4 stories in Nausea. La chica que cobra en la tienda, los chicos que van a saltar, los chicos que son como una pareja y el padre. En realidad lo que quería escribir es una historia que no es de un barrio de gente rica or de clase media, es un barrio normal. Mi trabajo habla de la ciudad en distintas formas. Nausea es lo más oscuro que he hecho. I liked how it turned out but I wasn't too satisfied. I think it is because it's the longest comic I've done. I usually write 8 page comics and this one is 24. It's difficult to make comics! That's probably why I don't do them too often. No lo hago tanto como me gustaría.
LA: Your drawing style in Nausea reminds me of the dirty cartoons in old Easy Rider magazines. My dad used to keep his lying around until my brother and I got old enough to understand that the magazine wasn't necessarily just about Harley Davidson's. What inspires your style and how do you view your work in comparison to other folks? 
In Mexico the art scene tends to be tied to the type of government that we have had. [The Institutional Revolutionary Party] PRI was the hegemonic party and gave a lot of support to artists through grants. This was a way to maintain control over political content in the art scene. The government would give support to a certain type of artist. When the [National Action Party] PAN was in power, we entered a neo-liberal capitalist period in the country and the art during that time was frivolous. It was contemporary art closely tied to white Mexican elitism. The art scene aspired and still aspires (2000-now) to be a thing of luxury. Something empty, lacking soul. 
But there has always been a strong graphic art movement here in Mexico. It is tied to social movements and protests. For me the art world, as I see it, is elitist. It doesn't interest me. My way of seeing art is through cartoons and comics which can communicate clear ideas to the people. That is very important to me. I try to communicate ideas and information through the imagery and metaphors I use in my comics. That is why I don't see graphic art as part of the "art scene". There is an uprising of young folks creating independent gallery space for paintings, comics, installations. They have realized that the mainstream art scene es una mierda. They didn't have to aspire to sell art for millones de pesos or cater to las ferias de coleccionistas de Europa, los Estados Unidos o Canadá. 
En los Estado Unidos el consumo de productos culturales es muy brutal. We see it in the punk and hardcore scene. Hablaba mucho de eso con mis amigos. Salían bandas y bandas y bandas muy buenas, making música brutales. Soon there were thousands of bands with a similar sound. Todos responden de los mismos discursos. Dicen las mismas cosas en las canciones. Sentíamos que el punk en los Estados Unidos faltaba un poco de alma. Un poco de protesta. De lo que es el punk realmente. Es confrontar las problemas sociales. The Chicano and Black/African American punk bands in the U.S really have something to say. Mainstream white punk music has become boring and redundant. And relating this to comics, I think the U.S comic scene has been very important and at the same time, needs to make more room for non-white voices who tell great stories. There are always going to be great graphic artists in the U.S. There is an emerging cohort of comic writers from Belgium and France that are very interesting. Muy vanguardista. In Mexico it's somewhat difficult. For a long time we had a produccion de comics y grafica editorial but the tv destroyed it. There is a resurgence of interest in comics but young folks faltan referencias. Faltan conocer artistas y información sobre artistas gráficas interesantes. It's gotten better with internet or Instagram where it's become easier to find new comic artists from all over the world but we are missing the opportunity to learn more about comics and comic artists by reading about them to inform ourselves. Artists like Virgil Finlay or artists from the 1950's. We can interact visually, but we are missing the context. So, at any rate, my work might look old school, from another era, but that's because all my references are old. 
I read an interview with Sammy Harkham in Bubbles Zine. He said something that resonated with how I see comics, that what seems interesting in comics now is that you can see a temporal sequence of the evolution of comics. There is a link to the past in one way or another. That is the essence of drawing comics. There was another interview with Jack Kirby where he talks about comics as un oficio, a trade. You can't learn it in a university. You learn it by taking in other people's work. Kirby says, in comics, you steal a nose from someone else's drawing, hands from another, evolving from the original. La caricatura es otra cosa aparte del arte. I don't feel comfortable being referenced as an artist. I think my work is far from the elitism of "art" . Being an "artist" isn't the purpose of my work.
LA: In light of all that, do you think that comics are under-recognized? 
No. I think comics are where they need to be. In the margins. I am involved with a graphic collective in France called Le Dernier Cri . The founder, Pakito, is one of my heroes. I found Le Dernier Cri while searching on the internet for crazy stuff. When I found the website, my mind was blown, I thought, "this is what I am looking for". I was surprised to find that my life brought me to these people to discuss printing and comics. 
I was talking to Pakito about this topic. He hates the art scene. Pakito comes from the French punk scene. Eventually he got tired of punks-of course and started doing his own thing. Caroline Sury, a great illustrator, and Pakito went to Marseilles and squatted in an abandoned factory. They started doing films, and screen-printing books in the 90's. Now the place has become a hipster cultural center which is fine, things aren't black and white. The cool thing is that it's set up to serve young people in the margins. Mostly Arab and black folks. At one point the government got involved and created a community cultural center out of it. Pakito's studio is still there but he has to engage in more mainstream things than he would prefer-things like meeting the mayor.  This dynamic makes me aware that graphic art and comics serve a very different purpose. The purpose of cartooning is to communicate directly and make it easy for people to share ideas. Graphic arts have to be in the margins. They have to go against the arts. 
One day I'm going to get a tattoo of an S. Clay Wilson quote, "If you're not good enough to be a cartoonist, maybe you can be an artist." 
It can be difficult to make money from my illustrations. I try to make commercial art but I can't. I can't do it the way they want. I kind of gave up. In the end I'm not happy doing it and the people who hire me are not happy with the result. People expect my aesthetic to work for their own purposes. I don't want to draw just to draw. I can't even have a sketchbook for warm up drawing. When I sit down to draw, I start drawing serious images. People ask me for illustrations but don't like what I am saying. That is a problem for me. I am in a permanent state of poverty because of this. Like in many big cities of the world, the economy changes in a way to turn the cities into a place for the wealthy. It's impossible for those of us who work and live in the margins. 
LA: Where does that fire come from? You mentioned you try to draw something light but it always turns into something more serious with edge. You can't help but to use your illustrations to make a point. Was your family an influence in shaping your perspective? Or was this something you developed for yourself? 
I come from a poor neighborhood in the margins if Mexico City. My parents are workers. My dad used to work in one of the public health laundromats. We are working class. My family was never into politics. This is something that I developed without noticing and was influenced by observing my environment. 
The neighborhood where I grew up in is still fucked up. It's really close to a really rich neighborhood all on one street. There are big houses, big gardens on this street. After this street, there is a miserable poor neighborhood. When I was a kid on the bus going to and from school, the bus would fill with working class people. I could see those workers peering out the window at all these big houses. It made me hate rich people a lot.
LA: What do you think you'll work on next? 
I have a few ideas for a science fiction comic that parodies science fiction and the future. I want to ridicule science fiction. Tengo allí las ideas pero no he podido sentarme a dibujar. I have ideas but I haven't been able to write it. It takes me a long time to make one page of a comic. Soy muy obsesivo. If it doesn't look like how I want it to it takes me a long time. 
LA: What are your favorite horror movies? 
Well, I'm really attached to Dario Argento and John Carpenter-I love. 
LA: I love horror films. Both horror and science fiction lend themselves to telling stories of a reality that seems unreal but serve as vehicles for sharp political commentary of reality.
With the science fiction comic I want to make, I want it to seem so stupid. I have a problem how science fiction has developed the goal of humanity. Powerful countries that dictate the destiny of the rest of the planet. Science fiction has been really important to set paths for society to follow. They constructed this idea of progress and technology as the hope of our future. I want to do stories based in Mexico that contrasts the idea of future. Like 1,000 years from now but everything is still fucked up. The future is some kind of decoration. 
LA: What do you want people to know that might not have come through in our conversation so far? 
Well, I have constructed this idea of how people in the U.S live. 
LA: hahaha…well, tell me more, I want to know what that is! 
Consumption seems like the main thing. I mean it's ok if people buy books from me. At the same time, I don't want people to buy just to buy. The people who like my stuff like it because my work speaks to them. They have a good interpretation of what I am trying to tell them. My work is an effort to provide a well-developed image in the technical aspect but also to develop an idea and tell a story. Sometimes I am afraid when I have these periods where I am stuck, and I can't make new stuff. And I think maybe I've lost it. Maybe I don't know how to communicate anymore. The drawings are important on their own, but the content is as well. There should be a communion between the drawings and content. 
All images used with permission of the artist. 
Come to the Short Run Merch & Info table at the festival on Saturday, Nov. 9th to buy Abraham's books! 100% of the sales go directly to him.