Saturday, Nov. 5th, 2022   11 am – 6 pm
Short Run Comix & Arts Festival 
Fisher Pavilion at Seattle Center 
2nd Ave. N & N. Thomas St.
FREE
Additional Programming 
(Save the date! Add'l registration links and more details forthcoming)
Thursday, Nov. 3rd
7:00 – 9:00 pm  (FREE, Registration required)
Special Guest Showcase/Short Run Kick-Off!
Reading & performance with special guests Natalia Novia, Anna Haifisch, and Claudia Chinyere Akole. Light refreshments will be served. 
The Grocery Studios 
3001 21st Ave S  (Beacon Hill)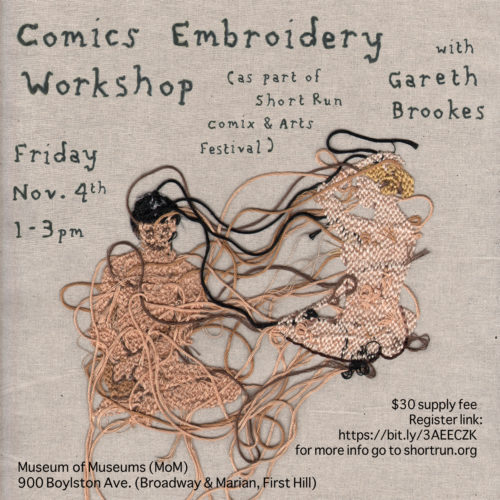 Friday, Nov. 4th
1:00 – 3:00 pm   (Registration required, $30 materials fee)
Comics Embroidery Workshop with Gareth Brookes
Museum of Museums (MoM) 
Broadway & Marian (First Hill)
Friday, Nov. 4th
12:00 – 2:00 pm   (FREE, Registration required)
Dynamic Drawing Workshop with Lale Westvind
Common Area Maintenance
2125 2nd Ave (Belltown) 
Friday, Nov. 4th 
6:00 – 8:30 pm    FREE
show runs through Dec. 8th
Marathon Art Show and Pre-Fest Reception
Shary Flenniken meet & greet and Q&A from 6:00 – 6:30 pm 
feat. artwork by Claudia Chinyere Akole, Shary Flenniken, Megan Kelso, Gareth Brookes, Natalia Novia, Lale Westvind, Antoine Maillard, Anna Hafisch, James Spooner, Ariel López V., Casanova Frankenstein, T. Edward Bak, Madeleine Jubilee Saito, Rodger Binyone, Jasper Jubenvill, Krusty Wheatfield & V. Vale
Fantagraphics Bookstore & Gallery 
1201 S Vale St. (Georgetown)
Friday, Nov. 4th 
7:30 – 9:00 pm  
Film Screening: Funny Pages (Owen Klein, 2022) 
A bitingly funny coming-of-age story of a teenage cartoonist who rejects the comforts of his suburban life in a misguided quest for soul.
The Beacon Cinema
4405 Rainier Ave. S/ cross-street Genesee 
Saturday, Nov. 5th
8:00 pm- 11:00 pm    $5 
Short Run After-Party 
with DJ Gold Chisme, live comic reading with Zine Not Dead, photo booth by Melissa Kagerer, bar (for 21+ with ID)
The Vera Project 
Corner of Warren & Republican (Seattle Center)
Sunday, Nov. 6th
1:00 pm -3:00 pm   FREE
Career-spanning interview with Megan Kelso 
Phyllis Fletcher (NPR, NYT, Truth Be Told with Tonya Mosley), a highly decorated editor, mentor and comics fan, interviews local cartoonist Megan Kelso about her new book of graphic short stories, Who Will Make The Pancakes?, her public art piece now installed at Climate Pledge Arena, and beginnings as a cartoonist in Chicago, New York, and Olympia. This in-person interview will also be live-streamed. 
Seattle Public Library 
1000 Fourth Ave. (Downtown)
Nov. 6th 3 pm to 5:30 pm
ZAPP Zine Collection Open for Browsing
View the ZAPP collection of over 30,000 zines, many extremely rare, open to public for the first time in over 2. 5 years.
Seattle Public Library
Central Branch, Level 7
1000 Fourth Ave (Downtown)