Saturday, Nov. 5th, 2022   11 am – 6 pm
Short Run Comix & Arts Festival 
Fisher Pavilion at Seattle Center 
2nd Ave. N & N. Thomas St.
FREE
Additional Programming 
(Save the date! Some events required RSVP)
Wednesday, Nov. 2nd
7:00 – 8:00 pm  (FREE)
Zine-making with Natalia Novia (in Spanish language) 
ESTE TALLER SE REALIZARÁ EN ESPAÑOL. Únete a la artista de fanzines 
y productora de animación, la argentina Natalia Novia, mientras habla sobre los conceptos básicos para hacer que tu arte dialogue de manera cautivante. Natalia es parte de la vibrante escena editorial indie
en Buenos Aires y está de visita en Seattle como invitada del Short Run Comix and Arts Festival. Este taller te ayudará a comprender cómo un guión gráfico puede aumentar su tensión y el misterio de manera lúdica y experimental
. Hablará sobre cómo crear fanzines con grapas, dobles, costura o publicación digital. Saldrás del taller con nuevas ideas y la confianza de crear tus propias historias, y así, tu arte podrá florecer en la cultura de los fanzines 
de Seattle.
Natalia Novia se presenta con el apoyo de Entre Ríos Books, Short Run y Seattle Escribe.
THIS WORKSHOP WILL BE CONDUCTED IN SPANISH. Join Argentinian zine artist and animation producer Natalia Novia, as she discusses the basics of making your own art and words come together in compelling form. Natalia is part of the vibrant DIY publishing scene in Buenos Aires and is visiting Seattle as a guest of the Short Run Comix and Arts Festival. This workshop will help you understand how visual storyboarding increases tension and play. She will discuss how zines are created with simple staples, folding, sewing, or digital publishing. You will leave the workshop with new connections and the confidence to create and share your own stories and art in the thriving Seattle zine culture.
Natalia Novia is presented with the support of Entre Ríos Books, Short Run, and Seattle Escribe.
Translation audio devices provided by King County Library.
Renton Highlands Library
2801 NE 10th St. (Renton)
Thursday, Nov. 3rd
7:00 – 9:00 pm  (SOLD OUT)
Special Guest Showcase/Short Run Kick-Off!
Reading & performance with special guests Natalia Novia, Anna Haifisch, and Claudia Chinyere Akole. Light refreshments will be served. 
The Grocery Studios 
3001 21st Ave S  (Beacon Hill)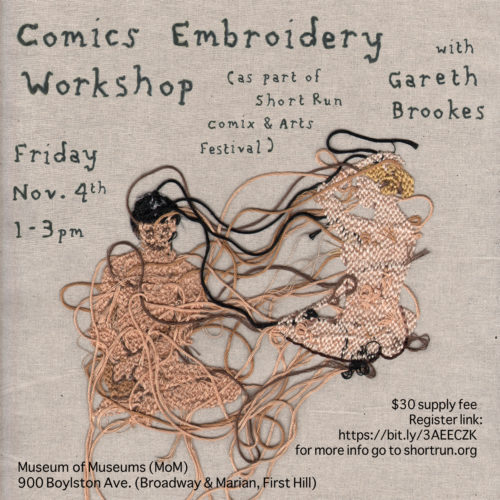 Friday, Nov. 4th
1:00 – 3:00 pm  (SOLD OUT)
Comics Embroidery Workshop with Gareth Brookes
Museum of Museums (MoM) 
Broadway & Marian (First Hill)
Friday, Nov. 4th
12:00 – 2:00 pm   (SOLD OUT)
Dynamic Drawing Workshop with Lale Westvind
Common Area Maintenance
2125 2nd Ave (Belltown) 
Friday, Nov. 4th 
6:00 – 8:30 pm    FREE
show runs through Dec. 8th
Marathon Art Show and Pre-Fest Reception
Shary Flenniken meet & greet and Q&A from 6:00 – 6:30 pm 
feat. artwork by Claudia Chinyere Akole, Shary Flenniken, Megan Kelso, Gareth Brookes, Natalia Novia, Lale Westvind, Antoine Maillard, Anna Hafisch, James Spooner, Ariel López V., Casanova Frankenstein, T. Edward Bak, Madeleine Jubilee Saito, Rodger Binyone, Jasper Jubenvill, Krusty Wheatfield & V. Vale
Fantagraphics Bookstore & Gallery 
1201 S Vale St. (Georgetown)
Friday, Nov. 4th 
7:30 – 9:00 pm  
Film Screening: Funny Pages (Owen Klein, 2022) 
A bitingly funny coming-of-age story of a teenage cartoonist who rejects the comforts of his suburban life in a misguided quest for soul.
The Beacon Cinema
4405 Rainier Ave. S/ cross-street Genesee 
Saturday, Nov. 5th
7:30 – 10:00 pm
Short Run After-Party
Mini Mart City Park
6525 Ellis Ave. S (Georgetown)
$5
Cash bar, 21+ with ID
DJ Gold Chisme
Photobooth by Melissa Kagerer 
Sunday, Nov. 6th
1:00 pm -3:00 pm   FREE
Career-spanning interview with Megan Kelso 
Phyllis Fletcher (NPR, NYT), a highly decorated editor, mentor and comics fan, interviews local cartoonist Megan Kelso about her new book of graphic short stories, Who Will Make The Pancakes?, her public art piece now installed at Climate Pledge Arena, and beginnings as a cartoonist in Chicago, New York, and Olympia. This in-person interview will also be live-streamed. Pre-register for live-stream only here. 
Seattle Public Library 
1000 Fourth Ave. (Downtown)
Nov. 6th 3 pm to 5:30 pm
ZAPP Zine Collection Open for Browsing
View the ZAPP collection of over 30,000 zines, many extremely rare, open to public for the first time in over 2. 5 years.
Seattle Public Library
Central Branch, Level 7
1000 Fourth Ave (Downtown)