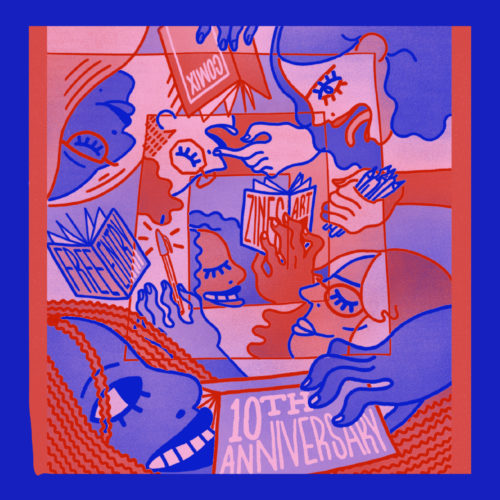 We're excited to welcome exhibitors from 20 different states, and 6 countries. 40% of the exhibitors are from Washington State, and many are tabling with us for the first time. (Listed below alphabetical by first name/business name and their main websites are hyperlinked. Special Guests names in BOLD.)
Able Fader, A.T. Pratt , Adam de Souza, Alisha Davidson, Allie Trigoso, Amy Camber, Amy Zhao, Anders Nilsen, Andrew Pena, ANEMONE, Anna Haifisch, Antoine Maillard, Antiquated Future Distro, Ashley Robin Franklin, Awkward Ladies Club, Birch Rosen, Björn Miner, Brandon Lehmann, Brandon Vosika, Bred Press, Brett Hamil, Brittany Burton, Bruce Simon, Bulgihan Press, C.M. Ruiz, Caitlyn Edson, Cam del Rosario, Carlos B., Casanova Frankenstein, Cassie Murphy, Che Yuan, Chloë Perkis, Chris Cajero Cilla, Claudia Chinyere Akole, Coco Paluck, Coin-Op Books, Cold Cube Press, Cole Pauls, Colleen Frakes, Colleen Louise Barry, Common Area Maintainence, Compound Butter, Conundrum Press, Craig Hurd-McKenney, Cutie Fest (Kaitlin Fritz, Harlen Munso, Sepia Katsoolis, and Chan Plett)
Danny Noonan, Daria Tessler, Dawn Wing, Dawson Walker, DEFY Wrestling, diasporan savant press, Dustin Garcia, E Joy Mehr, E.T. Russian, Eileen Chavez, Elaine Lin, Empress Editions, Entangled Roots Press, Entre Ríos Books, Entropy Editions, Erika Rier, Fantagraphics Books, Inc., Floating World Comics, foundry10, Freak Comics, Fred Noland – The Funhaus, Frederick Dobler, Free Ass Mag., Fullyhumann, Gabe Howell, Gareth Brookes, GELKHEHT (Yewon Kwon & Benjamin Kraco), Glacier Bay Books, grace baek, Greg Means, Greg Stump, Harry Nordlinger, Henry Uhrik, Irrevelant Press, Issue Press
James Spooner, James the Stanton, Jane Johnson Yohnson, Jasjyot Singh Hans, Jasper Jubenvill, JB Roe, Jesse Simpson, Jillian Barthold, Jim Blanchard, Jon Strongbow, Josh Pettinger, Josh Simmons, Julia Wald (Dash Grant recipient), Kacy McKinney, karen shangguan, Karl Christian Krumpholz, Katie Fricas, Kirsten Hatfield, Krusty Wheatfield, Kruttika Susarla, Lale Westvind, Lara Antal, Lara Kaminoff, Lauren Armstrong (LARM), Laura Knetzger, Lenora Yerkes, Leobardo Bañuelos Jr, Living Room Press, liz yerby, Lydia Fu, Lydian Brambila
M. Sabine Rear, Magda Boreysza (Fox & Comet), Mannie Murphy, Marc Palm (Self-Satisfied), Mary Anne Carter, Max Clotfelter, Maxx FG / Push/Pull Press, Megan Kelso, Megaspora Studio, MFA in Comics, California College of the Arts (CCA), Michael D. Hall, Michael Koehler, Michael Shea-Wright, MK Reed, Most Ancient, Natalia Novia, Natalie Dupille, Nate Garcia, Nate Orton/My Day Zine, National Monument Press, NEOGLYPHIC MEDIA, Never Angeline North, Nick Francis Potter, Noreah/Brownfield, Octal Press, Outlet PDX, Pam Wishbow, Paper Press Punch, Pat Moriarity, Patrick Keck, PEOW, Perfectly Acceptable Press, Piggy Bank Zines, Poet Ray Prints, PM Press
Quinn C Amacher, Rachel Scheer, Raspberry Bow Press, Really Easy Press, Rhodora Jacob, Robert Newsome, Robyn Jordan, Rodger Binyone, Ryan Tiszai, Saoirse Alesandro, Sarah Mirk, Sarah Romano Diehl, Scarfff Comics Newspaper, Sean Christensen/Gridlords, Seattle Public Library, Seattle Walk Report, Secret Room Press, Shannon Kao, Shary Flenniken, Silver Sprocket, Stefan Gruber/Seattle Experimental Animation Team (SEAT), Steven Reddy, Sydney Chavan, Taxonomy Press, The Art of Avy Jetter, The Sequential Artists Workshop (SAW), Sue Ann Harkey, Theo Ellsworth, Tim Goodyear, Travis Rommereim, Will Betke-Brunswick, Words Are Objects, Zak Sally/La Mano 21, Zine Hug
These artists will be signing books at the Fantagraphics table: Alex Graham, Mannie Murphy, Patrick Keck, Casanova Frankenstein, Megan Kelso, and Ellen Forney. Here's their signing schedule. 
Please check out the exhibitor websites! Get ready for Nov. 5th!
Exhibitors subject to change due to cancellations.
Special Guests design festival posters, t-shirts, and web graphics, they teach workshops, do readings and performances, provide their artwork in several art shows, and act as mentors. 
We'd like to acknowledge the support of the King County "Revive and Thrive Festival and Events" grant funded by the Federal American Rescue Plan Act (ARPA) with the Coronavirus State and Local Fiscal Recovery (CLFR) funds. THANK YOU!!!!