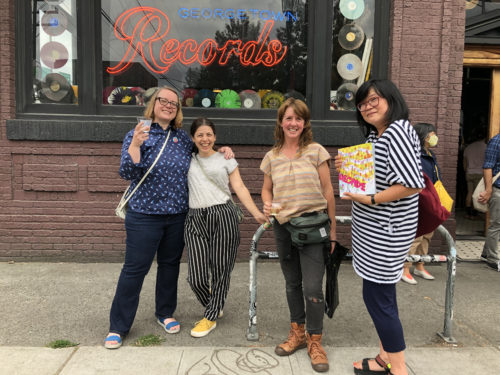 Hi Everybody – 
Well, we're still trying to hang on until we can all be together again in a large public space! We even set a date and rented a venue, but we will continue to wait to see how the world adapts, moves forward, or declines further (anything can happen).
Throughout early 2021, we continued our work on our epic, 10-year spanning yearbook Decade: 10 Years of Short Run Comix & Arts Festival. It just got bigger and bigger the more we worked on it and ended up being almost 140 pages! Jessica Hoffman and I (Kelly) met regularly to work on it, and were happy to because often we were the only other person besides our partners we would see in a week. 
There was lots of admin going on behind the scenes, as we took advantage of some CARES ACT programs such as Paycheck Protection (forgivable loans for small businesses) and the Employee Retention Fund tax credit. We continued to stay on top of grant writing and other fundraising, as well as keeping up a social media presence (thanks to Jessica Lopez, our Social Media Liaison, for her keen eye and quick fingers), in the hopes of keeping comic artists engaged. 
February through June four local artists recorded 20 minute interviews about recently completed projects for the Short Run Slideshow Series, produced by the Hedreen Gallery (at Seattle University). We were planning a large retrospective art show with curator Molly Mac, but when it was postponed for a second time she suggested we make some educational virtual content. We were really excited to feature Megan Kelso, Meredith Li-Vollmer, Lauren Armstrong, and Myra Lara.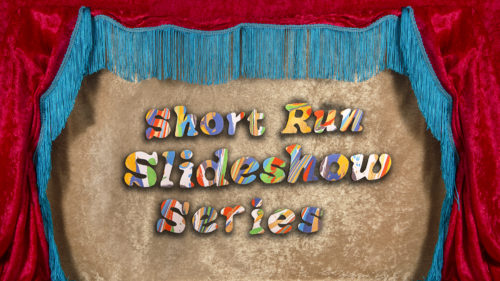 In July, we were delighted to reconnect with so many in our community at Larry Reid's outdoor Hot Off The Press Fair, surrounding Fantagraphics Bookstore & Gallery in Georgetown. We had a table there along with about 30 other artists and musical acts. 
Decade: 10 years of Short Run Comix & Arts Festival was completed in September and we had a book launch back at Fantagraphics Bookstore & Gallery, along with an art show of Short Run ephemera from years passed (posters, flyers, badges, odd stuff, etc.) Producing Decade locally was really important to us, so we had 500 copies printed at Saigon Printing on Rainier Avenue, and bound them at Phil's Custom Bindery in South Park. So far we have sold 206 copies and donated 124 more. It's been placed in 11 Seattle library branches, 16 zine collections and book archives, and mailed to people in 7 countries. It was written about in Crosscut and The Stranger. 
The day after our book release we started working on the Short Run Comix & Arts Festival Catalog, a 16-page newsprint catalog featuring new releases from WA State comic artists, zinesters, writers, and ads from small businesses serving the small press community. Designer Jacob Covey brought together a lot of complex information and graphics and designed a catalog with a nod to the Scholastic book order forms of yesteryear. Customers order directly from the artists and over 5,000 catalogs were distributed across the country (over 200 indie bookstores, comic book shops, and DIY small businesses and zine libraries received copies). 
In December, Board Member Bryan Littlefield turned our 100 sq. ft. studio space into a mini-gallery and library. He built angled bookshelves, upright shelves, installed a gridwall, lighting, and more, all by hand. I repainted the space and got everything organized for our first Studio Holiday Sale with studiomates Paper Press Punch, Natalie Dupille, and Travis Rommereim. We invited Eroyn Franklin, Elaine Lin, Jazzlyn Stone, and Fogland Studios to sell their wares as well. We hope to open the studio to the public every month during Georgetown Art Attack (2nd Saturday art walk). 
Our community stood by us all year long. Through donations, word-of-mouth promotion, and by attending our [distanced, masked] book release party and studio sale, we felt supported by a group eager to attend our future events. 
In 2022 we look forward to new partnerships with Mini-Mart City Park, Common Area Maintenance (CAM), the Seattle Office of Sustainability & Environment, and to more events with our studiomates Paper Press Punch as they slowly reopen for Risograph workshops and Open Studio hours.
We will hold the 6th annual Trailer Blaze Comics Residency at The Sou'Wester Lodge & Vintage Trailer Park in April with 14 artist residents, and we will cautiously plan our 10th annual Short Run Comix & Arts Festival scheduled for Saturday, November 5, 2022 at Fisher Pavilion at Seattle Center. 
Hang in there, we hope to see you soon!
– Kelly Froh
Short Run Board Member's news:
Megan Kelso's public art project "Crow Commute", an 85 foot long comic on etched steel plates, is now installed at Climate Pledge Arena at Seattle Center. 
Mita Mahato's Common Area Maintenance (CAM)'s residency for her project "We Are Contaminated By Our Encounters" (gallery wall, new writing, and the design of their 2nd Avenue outdoor sign) continues through March. 
Jessica Powers' opened restaurant TOMO, in White Center, with partner Brady Williams, to great acclaim. 
Lylianna Allala completed her first year as the city's first Climate Justice Director and launched a Green New Deal for Seattle with the establishment of a community oversight committee. 
Kelly and Mita appear in a beautiful anthology out of Spokane, "Evergreen: Grim Tales and Verses from the Gloomy Northwest". 
Meredith Li-Vollmer's "Graphic Public Health" will be out next summer, published by Penn State University Press. 
Otts Bolisay is retiring from the Short Run Board effective Jan. 1; we thank him immensely for his service, ideas, sense of humor, and quiet, reflective questions.