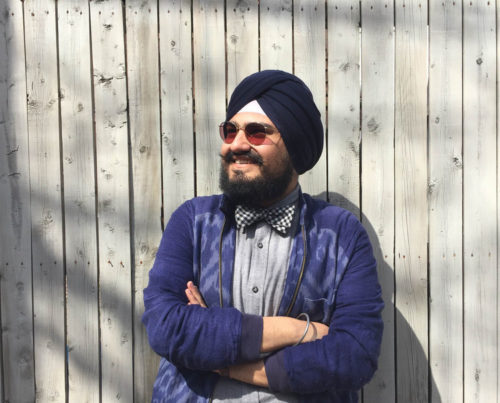 When we found Jasjyot's work on Instagram, we were so excited by his bold black lines, these gorgeous big women with intricate braids and stunning fashion. At first glance, we assumed he was an illustrator and lamented, "If only he made books too! He'd be an awesome special guest". We moved on in our search, but then decided to double back and actually research him more; we screamed a bit when we found out that he made zines and books too. Board Chair Mita Mahato asked Jasjyot a few questions about the poster he designed for us, his love of fashion, and his commitment to promoting body positivity in both women and men. We can't wait to have him at the festival on Saturday, Nov. 9th! 
MM: Paul Constant did a pretty good deep dive into your poster design for this year's Short Run festival in his interview for the Seattle Review of Books. I do have one lingering question I want to ask about it, though: What went into your choices for the shoe styles in the poster? They're so striking! What draws you to draw fashion?  
JSH: I love drawing fashion, and that's about that. Haha. I wish there was a deeper answer to this. Since I was a kid, my mum would bring in magazines from a local library and I would spend a long time flipping through them and looking through the fashion editorials and ad campaigns. That's where my love for fashion started to develop. I'm always trying to make the women I draw feel special, whether it's putting them in kooky clothes or shoes, or giving them long hair. I like the idea of seeing something unusual in a mundane setting, like spotting someone in Prada sneakers in the subway. And I wanted to do just that. The shoes in the foreground are Dior FW 2014 sneaker hybrid heels by Raf Simons. I love it when sportswear and high fashion combine and really wanted one of the women I drew to be wearing these bizarre and gorgeous heels! The studded sandals take inspiration from the Valentino rock stud flats. Right behind that is a Camper-esque sneaker. Deep in the background, you'll see a wee Prada pump.
MM: In your book Bébaak, you describe that you wanted to draw women "the way [you] know them." Baby Let's Cruise has some similar messaging, but now directed toward the gay community. What does it mean to you to use your art to promote body positivity?
JSH: Bébaak is a collection of my sketchbook drawings. These women are an extension of me and give me power, much like the women I grew up around. These women are bold, complex, and are in complete control over their bodies. They navigate the world fearlessly, unlike me in my zine Baby Let's Cruise, where I try to unpack where my own body fits in the world of gay cruising apps through my interactions with people. Through both projects/streams of thought, the message is the same: to be able to portray bigger bodies with nuance, emotion and realness, and have these bodies be seen in spaces they're not usually seen in, whether it is through fashion or a gay man's online fantasy.
MM: What about nudity? Several of your illustrations feature these big, beautiful, proud, brown women–naked! It's like their nudity is a fashion choice that they've made. What are the choices you're thinking about when you're deciding to draw nudity vs. haute couture?
JSH: It is most certainly a choice. I like the idea of clothing, or the lack thereof, to suggest different emotions. Nudity can suggest strength or vulnerability; the naked body can shock and seduce. I like playing with body language and different shapes in clothing to suggest all those moods. It is usually emotionally-driven—the clothing is usually another layer to strengthen that point of view. And if I can get the point across without it, I don't draw clothing! 
MM: From one desi to another, I'm curious about what kinds of pressures you've felt to represent India or the "Indian experience" in your work. 
JSH: I've faced criticism from conservative people who claim I'm "polluting" the image of Sikhs, to which I usually reply with a thank you! I think we need to widen our scope of how our identities are represented. And if I can contribute to that, I think my work is successful. I like the idea of taking something familiar (usually markers of my identity ie. hair, bodies, skin colour, script), and juxtaposing that with something new to create something that feels contemporary. 
MM: Do you have plans for your next book? And will it be finished in time for Short Run?
JSH: Yes! I want to make a zine about violence against Sikhs in the States post 9/11, and the dangers of misrepresentation. The zine will focus on the Gucci FW 2018 collection, which featured some models (primarily white) wearing Sikh turbans down the runway. I want to get it ready for Short Run, but I'm not sure!
MM: Finally, roti or paratha? 
JSH: That totally depends on the accompanying sabzi. But I love nothing more than a humble roti at home, hot off the tawa. 
**All images shared with permission of artist.