Special Guests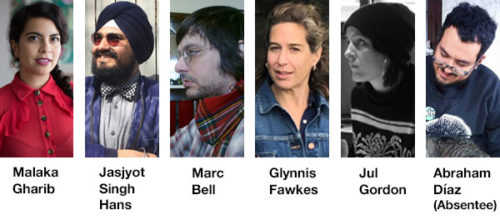 Exhibitors
(alphabetized by first name or business name)
A.T. Pratt, Alec Longstreth, Alejandra Espino, Alisha Davidson, Amber Huff, Amy Camber, Amy Zhou, Anders Nilsen, Andrea Lukic, andrea marcos, Angela Boyle, Angela Pan, AnneMarie Rogers, Archive Six, Ashley Caswell, Ashley Robin Franklin, Asterisk Press, Awkward Ladies Club
Ben Duncan, Ben Horak, Ben Nadler, Benjamin Kraco, Big Cartel, Bjorn Miner, BlackFemPress-Melanie Stevens, Brandon Lehmann, Brandon Vosika, Bred Press, Breena Nuñez, Bruce Simon, Bubbles Fanzine
C.M. Ruiz, Caitlyn Edson, Carlos B., Carmen Johns, CENS.US, CHAACK, Chloe Perkis, Chris Cajero Cilla, Christine Gutierrez, chu nap, Cold Cube Press, Cole Pauls, Colleen Frakes, Compound Butter Magazine, Conundrum Press, Corinne Halbert, Cristian Castelo
Danny Noonan, daria tessler, Darin Shuler, David Alvarado, David Lasky, Dawson Walker, DDOOGG, Dear Lois, Deborah Lee, Dennis Madamba, diasporan savant press, Donna Barr
Eileen Chavez, Elaine Lin, ELEVATOR TEETH, Elia Tawil, Elise Dietrich, Elizabeth Seibel, Ellen Lindner, Elodie Kahler,  Entre Ríos Books, Erika Rier, Eroyn Franklin, Ezra Claytan Daniels
Fantagraphics Books, Floating World Comics, Fogland Studios, Freak Comix, Fred Noland/The Funhaus
Gart Darley, Gelkheht, Greg Means
Hachem Reslan, Hair Flip Comix
Issue Press, Issy Manley
Jamaica Dyer, James the Stanton, Jamiyla Lowe, Jason "JFISH" Fischer, Jayro Lantigua, JB Brager, Jenny Ziomek, Jesse Simpson, Jessica Wadleigh/BabyCatBooks, Jesus Mary Anne Joseph, Jeweler Partridge Arts, Jillian Barthold, Jim Blanchard, Jon Garaizar, Jon Strongbow, Joey Perr, Josh Simmons, Joyce R., JS.press, JT Wilkins (JTW), Judah Drury, Julia K
Kacy McKinney, Kalen Knowles, Kat Fajardo, Kate Lacour, Katie Fricas, Katie Haegele, Katie Langlois, Katie Wheeler, Kayla Rosen, Kelly Froh, Kelly Morgan, Kimberly Edgar, King County Library Makerspace, KOREANGRY, Kristine Evans, Krusty Wheatfield
Laura Knetzger, Lauren Armstrong, Lauren Maxwell, Lemon Drop Press//Anjelica Colliard, Levi Hastings, Liminal Earth, Lindsay Anne Watson, Little Wing, Liz Sux, liz yerby, Long Shot Printing, Lori D., LOVE & ANXIETY, Lucy Comer, Luis Portillo
M. Sabine Rear, Madeline Berger, Magda Boreysza, Mannie Murphy, Marc Palm, Mark Badger, Matt Schumacher, Max Clotfelter, Megan Ramirez, Michael Koehler, Miles MacDiarmid, Mimi Jaffe, Mita Mahato, Mo Quick, Moniker Press, Myra Lara
Naoshi/Himi Kozue/Aki Miyajima, Natalie Dupille, Neoglyphic Media, Nicole Del Rio, November Garcia
Octopus Books/Fonograf Editions
Pablo A. Castro, Pam Wishbow, Papeachu Press, Paper Press Punch, Pat Moriarity, Patrick Keck, Pegacron, Perfectly Acceptable Press, Pete Faecke, Peter Bagge, Piggy Bank Zines, POMEgranate Magazine, Public Health-Seattle & King County, Push/Pull Press
Quietly
Rachel Bard, Rachel Comics, Really Easy Press, Rebecca Artemisa, Robin Elan, Rose Metting, Rosie Lockie, Ross Jackson, Rumi Hara
Sarah Mirk, Sarah Romano Diehl, Scott R. Miller, Sean Christensen, SEAT, Seattle Art Book Fair, Seattle Public Library, Seattle Walk Report, Shelf Shelf, Silver Sprocket, Simon Hanselmann, Smoke Specs Press, SPECSWIZARD, Spencer Scudder, Steven Christie, Steven Reddy, sunshine gao, Suzette Smith, Sydney Chavan
T. Buchanan, T. Edward Bak, Tatiana Gill, Taylor Hanigosky, teenage dinosaur, jason t. miles, Tessa Brunton, The Art of Avy Jetter, The Mushroom Queendom, Tijuana Zine Fest, Tenzing Lhamo Dorjee, Tobangus Comix, Tom Van Deusen, tommi parrish, Tory Franklin, Travis Rommereim
Wave Books, Will@transboycomics, Winter texts press, Xiao Xu
Zack Soto, Zak Sally/La Mano 21, Zine Hug
Abraham Díaz will be an absentee guest, as the US Dept. of State/Embassy in Mexico City denied his artist visa. Abraham's books will be for sale at the Short Run Merch table (100% sales get sent to him), and he will design this year's festival t-shirt. We are hoping we can still celebrate him despite this political setback.
Special Guests are asked to contribute to the festival in many ways, such as: a performance, an artist talk, as part of a panel discussion; t-shirt, tote bag, badge, or poster design; mentoring of the Dash Grant winner; showing original art in one of several art shows; interviews and other press to help promote the festival.
We will release the full festival schedule in September! Keep up with us on facebook, Instagram, & Twitter @shortrunseattle.